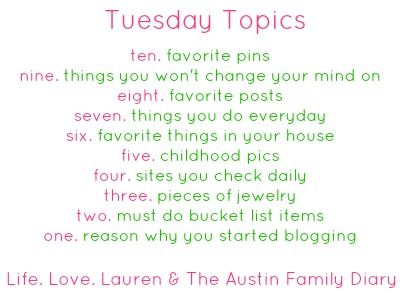 Today I decided to join the fun with
Tiffany
and
Lauren
! I've been wanting to link up with Tuesday Topics for awhile now and this prompt caught my eye.
9 things I won't change my mind on:
1. Cats.
I love 'em. I don't understand people who don't. I also like dogs, but I'm most definitely more of a cat person.
O

ur furball interrupting a baby photo sesh.

V

ery cat-like behav

ior.
2. Sushi.

Just can't do it.
3. Being cheap.
It physically pains me to spend money sometimes. I'm not a big coupon-er, but sales and clearance racks are my best friends. I swear if I won the lottery I would still decorate my house with Target and clothe myself with TJMaxx.
4. Religion.
I believe religion is a personal choice and a private subject. I don't try to push my beliefs on anyone, though I do plan to raise my children in my faith. I at least want to present them with Christianity so that they can make their own decision as adults.
5. Beer.
Gross. In the past I have wanted to learn to like it because it's cheaper and more convenient than mixed drinks. The taste just won't let me.
A delicious Hawaiian Long Island!
6. Breastfeeding.
When I was pregnant I read a couple books and went to a class about breastfeeding. I kept hearing the phrase, "It's so rewarding!", and I didn't get it. Now I find myself saying that to other people, but I still can't explain it. I will be devastated if nursing doesn't work out with my future child(ren?).
*update* (3/19/13) There was some confusion about whether I was saying I find breastfeeding rewarding or not. I DEFINITELY do, I just have a hard time explaining why. I guess it's something that has to be experienced before you understand.
7. Libraries.
As awesome as it would be to have the library from the Beast's castle, paying for that many books would go against my "being cheap" philosophy. I've only re-read a few books in my life, so libraries are perfect for me. And they're so relaxing. I love to take my coffee, browse the shelves, and enjoy the quiet.
8. South Park.
I'll admit I've laughed at some jokes, but overall this show goes too far. It's rarely more funny than insensitive and off-putting.
9. Soccer.
BOR-ring. I know it takes a lot of skill. But nothing happens. And a game ending in a tie is the worst.
Do you find yourself connecting with me a little more after reading these? Liking me a little less, maybe? :-P
Either way...this is me. And I'd love to get to know
you
. Say hello!