Happy Monday
, all!
I was relieved to wake up on Sunday to a new day which meant I wasn't stuck in a Groundhog's Day loop :-P Here's what else I was

up to this weekend...
+ Went grocery shopping. Tried out Aldi for the first time and forgot they make you deposit a quarter to get a cart and they don't have bags. This resulted in us walking around

awkwardly

and only buying as ma

ny items as we could carry.
+

T

o

ok some

naps.
+

P

layed with the ba

ybay.
Bert wanted to join in on the fun.
+

W

atched a movie

. Loved it.
+
M

ade some vegetable soup. Recipe here.
+
G

ot up for middle of the night feedings. SO not coo

l, Paxton. Get back on the sleeping-through-the-night train, please!!
+
W

atched the Superbowl. Loved Beyonce (who doesn't??). Wasn't impressed with most of the commercials.

My favorites were:
And I missed the Psy pistachi

o

one :(
Just saw it on the news this morning.
+

G

ot excited that the ole rodent pre

dicted an early spring.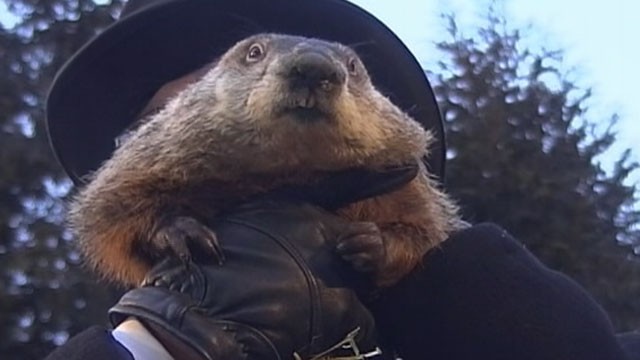 *************************************

*********
And, now, since it's Monday (boo!) here are my short-term goals for this week!
Last Week:
(1) Weigh myself. Done. ~149-153. I know that's a big spread, but our scale isn't that reliable. I got 153 last Tuesday, 152 last Tuesday night, and 149 Saturday morning. I've been eating better, but I did NOT lose 4 lbs in less than a week :-P I'll average them out and go with 151. Besides when I was pregnant, this is the highest I've ever been, but it's in the normal BMI range for my height. Want to find yours? Go here :)
(2) Put together and mail the package for the Spread the Love Vday Swap!

Finally got it all put together this weekend. This is actually a fail because it was supposed to be post-marked on Friday. A very nice apology note will be included now.
(3,4, & 5) Follow the diet!

I did very well (for me) at this. We decided to break our no cereal rule because we were getting SO sick of eggs and fruit for breakfast. We got some gluten-free Chex which are delish!
(1) Hang baby shadow box (that I made 2 weeks ago) and other pictures (which have been sitting around since we moved in 6 months ago) in our bedroom.
(2) Finalize JD and Paxton's Valentine's presents.

And share them with you all :)
(3) Wash our new mattress pad and put it on our bed. Boring, but it needs to get done.


(4) Make Paxton's baby food.

I've seen several awesome tutorials from new moms and will be attempting some avocado puree and sweet potato puree this week!
(5) Follow the diet!
***********************************
Have a wonderful first full week of February

<3