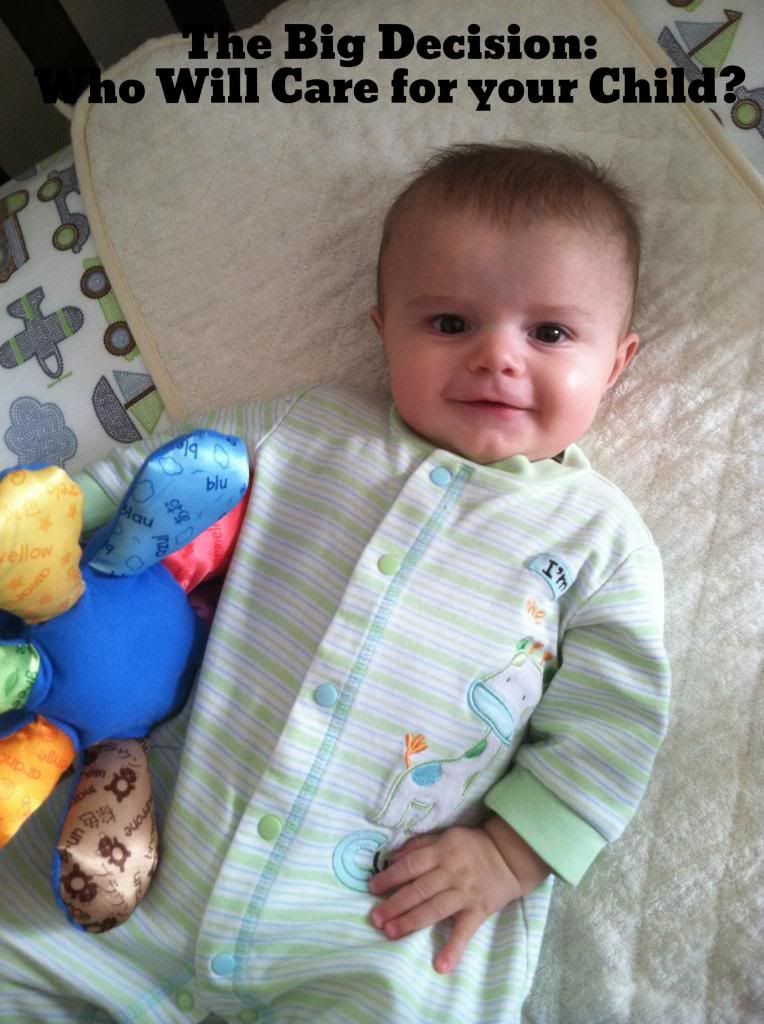 No matter what type of care giving you choose for your child, you will get negative comments/vibes from
someone
. This is true for any aspect of parenting. People think because they've done it a certain way and it worked for them that you should do it too. Sometimes people who don't even have kids will push their opinions on you. One thing I think many moms and dads will agree on is that you learn as you go and often what is right for your family changes as life goes on.
Some parenting decisions are easier to make than others. I knew from the beginning that I wanted to breast feed. Something I struggled with was when to go back to work. The 2011-2012 school year was my first year of full-time teaching. Although my co-workers and bosses were happy for me, I could tell they were a little anxious to hear what my career choice would be when I told them I was pregnant. My original decision at around 15 weeks preggo was to go back to work 8 weeks after the birth. This would give me about 2 weeks before Thanksgiving break; I wanted to ease back into it. As my pregnancy progressed, I starting toying with the idea of waiting until after New Years to re-join my classroom. I figured this would allow me time to prepare for and enjoy the holidays.
Then we started to look into daycare. To my knowledge there are three general types of child care-
In-home care
-- an individual comes to your home to care for your child. This service is often not advertised as a business.
Family care
-- an individual or a group cares for one child or a group of children in their home. This service may be advertised as a business or simply get communicated to the public via word of mouth.
Child care centers
-- often referred to as daycare, nursery school, and/or preschool. These are businesses regulated by the law.
There are pros and cons to each type, including cost, safety, and convenience.
Teddy bear snuggles.
Since we live 10 hours away from family and our closest friends are co-workers, we decided in-home care was not for us. We don't yet know anyone well enough to invite them into our home and leave them alone with our baby. Although we were told of a few people who provide family care, we also nixed this option. If we went this route, we would really like to know the care giver personally and/or have close friends with kids who attend/have attended give us a recommendation.
We were left with child care centers, so we started doing some research.
Holy wallet-robbing
.
These places are expensive! Understandably, the younger the child, the more money it costs to send them to day care. Most places start accepting babies at 6 weeks old. Some require them to be older. The price is usually the same until the child reaches a year old. We would be paying the greatest amount, which we discovered was practically my entire paycheck! Add in gas for my commute (~40 minutes each way) and we'd almost be losing money.
He loves this octopus.
I've read some mommy blogs where they say "Being a stay-at-home mom just wasn't an option for me." The main reason given is usually finances. Well, if I made more than a second-year teacher at a rural school district, I may agree with these mothers. I may have made a different decision.
First time facing out in the Baby Bjorn! He's smiling behind that paci :)
If money wasn't enough to change my mind, I started to realize how fast my baby was going to grow up. I was going to be a first time mom with pretty much zero baby experience. I wanted to learn as much as possible and really soak up my time with him. JD and I talked it over and he told me to make the final decision. I decided to take a one-year leave of absence and stay home with my son.
Loves looking in the mirror :)
The other reason I've heard moms give as to why they don't stay home is that they love their jobs and they believe that being established in a career and doing their thing makes them a better parent. I can most definitely understand where they are coming from here. Some days, when I'm still in my PJ's at 3pm, I wonder if I made the right choice! The administration at my school is amazing to grant me this leave after only having worked there for a year. My job is waiting for me come August 2013. Paxton will be 1 and day care costs will be lower. I know leaving him will be hard, but I also know I'll enjoy getting my creative juices flowing again.
Best friends.
So how's it going so far? The past 6 months have been a roller coaster, that's for sure. But the good kind. There have been tears of stress/exhaustion, days spent in sweatpants (LOTS of those), and loneliness. Spending every day with an infant and a cat can make a person go crazy! I quickly learned how to be productive while caring for Paxton. Singing and dancing while putting laundry away amuses him and crock pot meals are thebomb.com. We take walks (at the mall lately because it's
freezing
), go to story time at the library, and wander through Target. And I'll admit to watching way too much trash TV. Some days I'm watching the clock, praying for JD to walk through the door. Others days I'm surprised when it's already late afternoon. I hardly ever miss a good photo opp, I have yet to miss a milestone, and I'm usually the first to figure out what new thing makes him laugh. Another pro is that since Paxton was too young to get the flu shot, staying home has kept him away from all those winter germs.
Watching Kelly and Michael from his Exersaucer.
Who knows what the future holds for our family. My situation may be completely different when it comes to kid # 2 (and 3?). All I can say is I'm happy now. And my little man is happy, too :)