I'm so excited for the day I can decorate my home and know that I won't be packing up and moving in a year. Renting sucks coconuts. My "Dream Home" Pinterest board is filled with design and decor ideas which I will most likely never see in real life. But a girl can dream. *sigh*
Having a larger, more settled place would also mean more entertaining! I hope to one day have a cozy, hospitable home that my friends and family love to visit. One aspect of this is making sure they feel comfortable in the most private room of a house- the bathroom. Whether it's your mom wanting to freshen up before dinner, your cable guy needing to use the facilities before hitting the road, or your goddaughter staying for a sleepover (Random examples? Yes.), your bathroom should provide the following: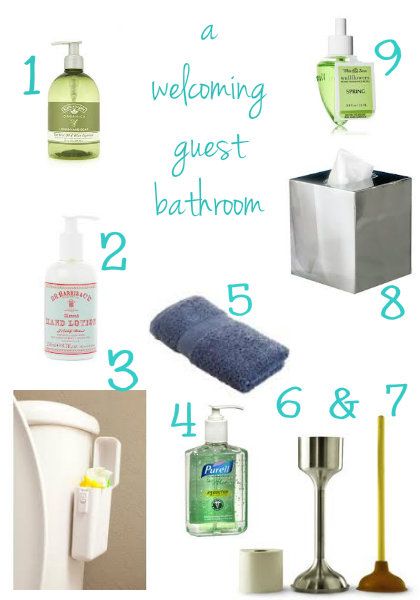 (1) hand soap:
Please tell me this is not news to you. The only reason I put it on the list was to go into further detail about what your soap should be like. Even if this is a bathroom you rarely go in to, check up on it once in awhile. The pump on liquid soap can get clogged, slimy, and and generally gross. Give it a wipe.
(2) hand lotion:
It's nice to be able to lotion after washing especially in the winter. One brand or scent will do, but I must say, I had a great guest bathroom experience over the holidays at JD's aunt's house. I found myself face-to-face with 10+ types of lotions and hand creams from Bath and Body Works. I gave each one a sniff and chose
one
two
three to apply. I walked out of there ready to drink more water just so I would have to pee again.
(3) feminine products, easily accessible:
This
handy little case
attaches to the toilet, but blends in. I mean, these things aren't exactly artwork. We don't need to display them as such. Girls will probably be
smart
curious enough to look in here. Guys will just ignore it. Perfect.
(4) hand sanitizer:
Unless I'm on a road trip, I'm a soap gal. But I do know some people would rather have the ease of no-water sanitizer, so I keep a bottle on the sink. To each his own.
(5) hand towel:
Duh. I really hope this is a no-brainer for most of you. Unfortunately, I've been a guest in several a bathroom where all I've seen was bath towels. I don't really like drying my just cleaned hands on a towel you've used to dry your body. Even if it was just cleaned, too. I'll also address the issue of over-decorating your bathroom for holidays in this category. Fancy towels are nice to look at, but sometimes they don't exactly get the job done. Put a regular one out with the bedazzled ones. Thanks.
(6) plunger and (7) extra toilet paper, set out:
Thankfully, I've never needed to plunge a toilet outside of my own home. However, I do find it reassuring to have one available. And who wants to root around in someone else's bathroom cabinet (besides you, nosy) when the roll is empty??
This product
saves the day- twice.
(8) tissues:
Can't they just use the toilet paper like I do? Of course they can. And at their home they do. But they're a guest here. Treat them like royalty and provide tissues.
(9) air freshener:
Keep everything smelling like roses. Or pine needles. Or a new car, if that's your thing.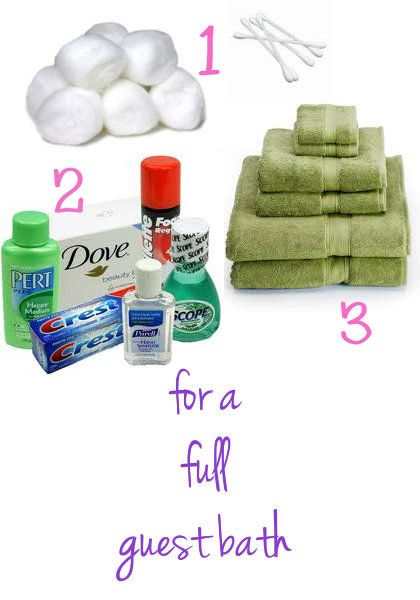 If your guest is staying overnight your job as host gets a tad more complicated. Make sure your bathroom is ready with all of the above AND:
(1) Cotton balls and q-tips, set out:
I am a Boy Scout when it comes to packing. Since others out there aren't always as prepared, lend them a hand if they have waxy ears or nail polish that needs removing.
(2) Toiletries
: The tiny shampoos and lotions at the hotels may not be the highest quality, but I snatch them up anyway. Give your guests this pleasure with the availability of some miniature toiletries.
(3) Bath towels and wash cloths, set out:
There should be no guesswork when it comes to which towels they should use. Put out more than should be necessary in different sizes (and fluff levels of possible). That way they get the illusion of making this decision all by themselves.

This cake stand/dessert tray gives off a fancy vibe.
Toss in some travel size products.
Cute, cute, cute.
Easy DIY.
Gotta love mason jars.
A sleek, unified look.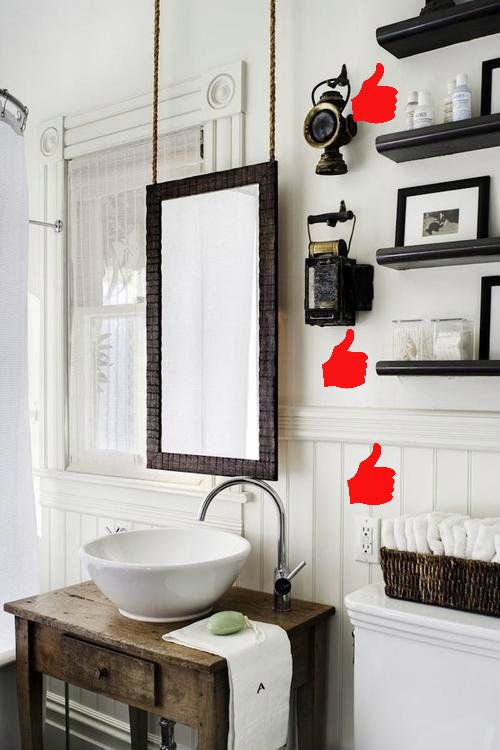 The basket of towels, jars of q-tips, and bottles of lotion get a thumbs up.