For this WILW I'm doing something a little different. I'm sharing Paxton's favorite toys :) The age range I'm using is 3-5 months but most of these can be entertaining to little ones long before and after that. Here are some things my man is loving:
(1)
AVENT pacifiers
: He never was a fan of the type we stocked up on-
Luckily, we had also registered for AVENT ones and received a few packs. They are definitely his favorite. He has really taken to pacis lately, which is okay with us. I know some parents try to stay away from them, but we don't mind. They keep him quiet and happy. Easy way out? Maybe. Judge if you want.
(2)
Fisher-Price Discover N Grow Kick and Play Piano Gym
: This was a Christmas present and Paxton has used it multiple times every day since. He loves kicking to play music and looking in the mirror!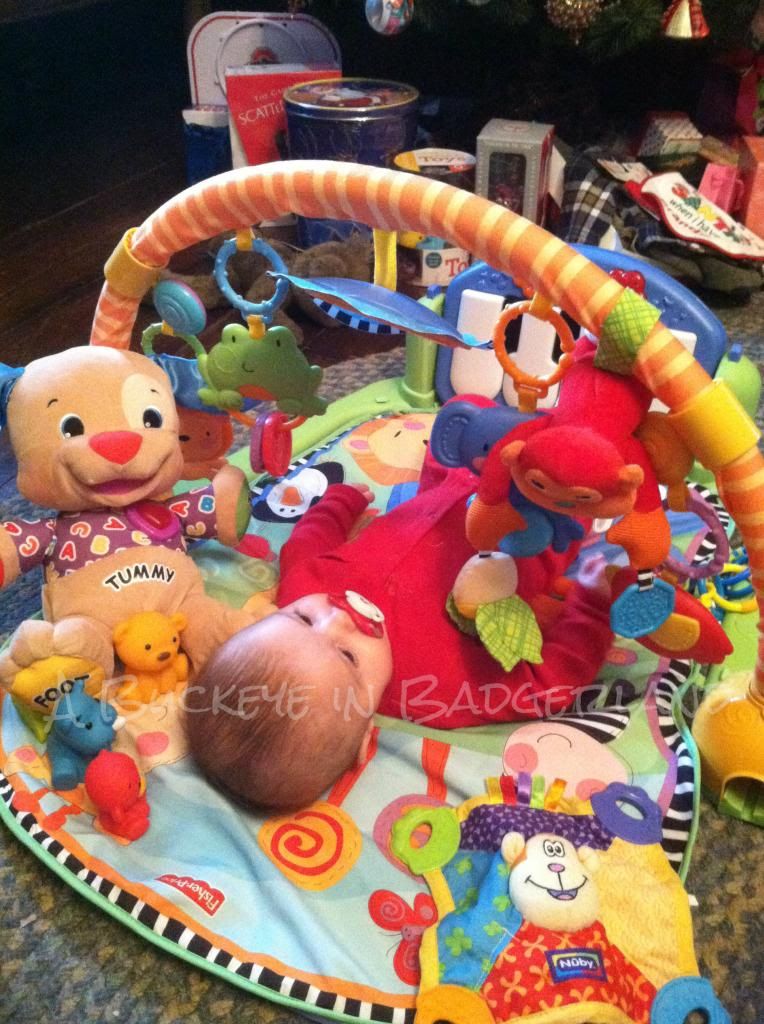 (3)
Lamaze Freddie the Firefly
: We refer to this guy as Big Bug. I had no idea it was supposed to be a firefly until Googling "Lamaze bug". Either way, we're big fans around here. It has a rattle, squeaker, different textures, crinkly wings, and rings to grab on to. Definitely a win.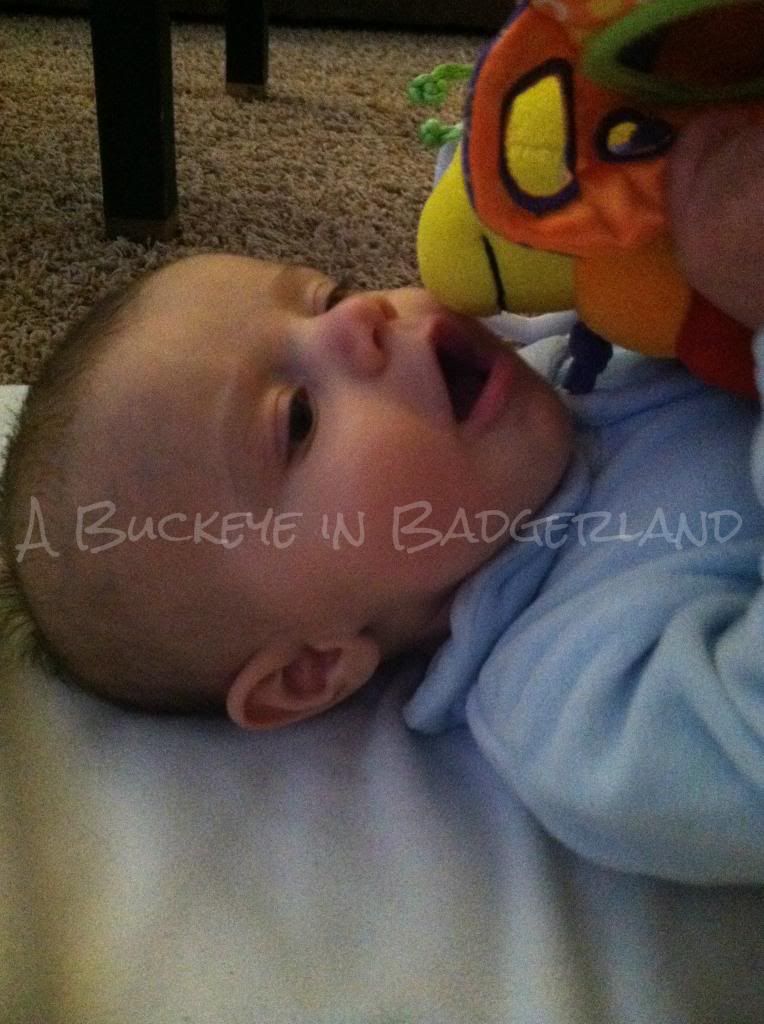 Trying to eat him.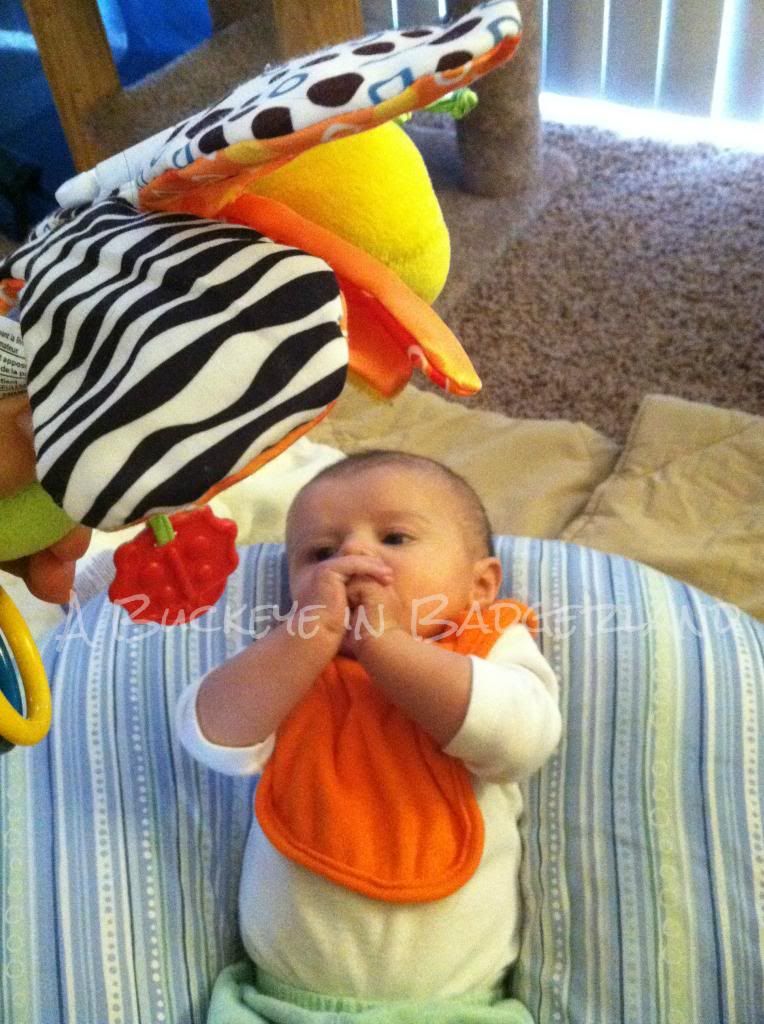 Watching him "fly".
(4)
Fisher-Price Laugh & Learn Click N Learn Remote
: Another Christmas present. He doesn't grab and push the buttons on purpose, but he loves accidentally hitting it or watching us do it!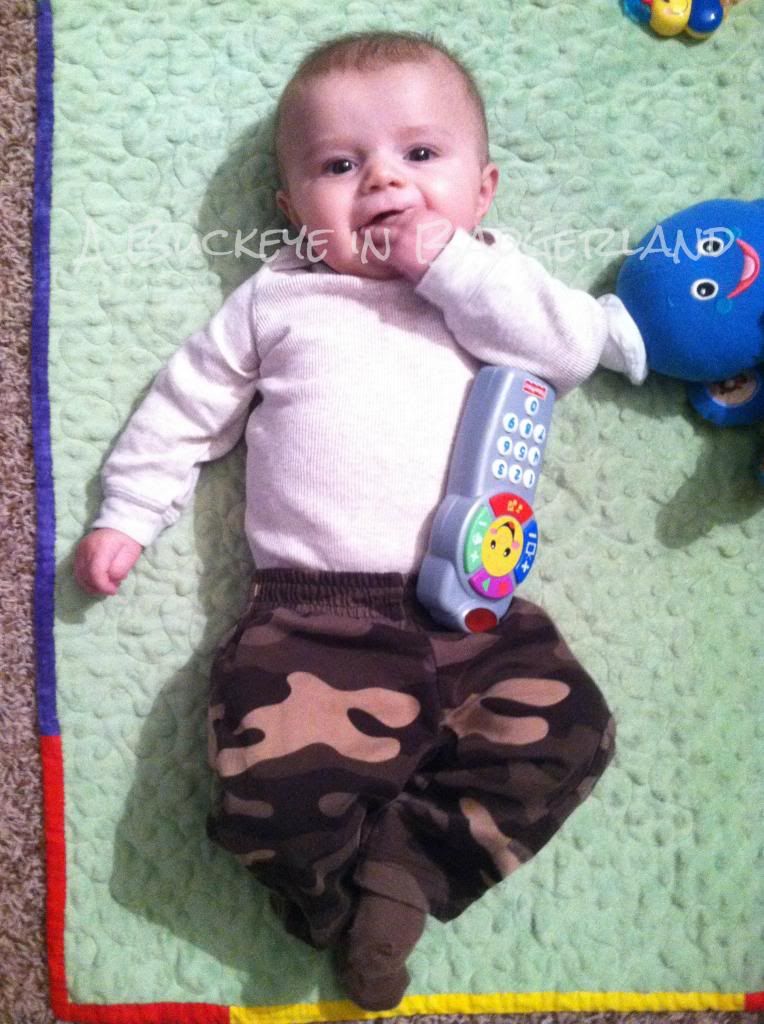 (5)
Nuby teething blankie
: Christmas present again. One section is crinkly which is great but he loves the noise it makes. (Not a parent and confused about this crinkly sound I speak of?? Think plastic grocery sack or cellophane gift wrap.) The corners are the perfect shape and size for his little mouth.
(6)
Fisher-Price Laugh & Learn Puppy
: Guess what? Christmas present! We were actually going to buy this for him before Christmas but decided not to because we figured he might receive it- and we're so glad he did! This puppy is so fun! Itsy-Bitsy Spider, Pat-a-Cake, and the ABCs are just a few of the songs it plays, along with teaching body parts, counting, and colors.
Also, he still loves some things I've
mentioned before
:
Fisher-Price Soothe and Glow Seahorse
,
White Noise Lite app
, and
Swaddle Me blanket
.
Any toy/product suggestions for the next stage??