First of all, "musn't"? I had never heard of that contraction, but I looked it up and it's a thing.
Moving on...
I've already shared some of
Paxton's favorite things
and
products JD and I relied on
for the first couple months. Here are some more reviews of products we've loved, barely touched, and three we use but wish we could change.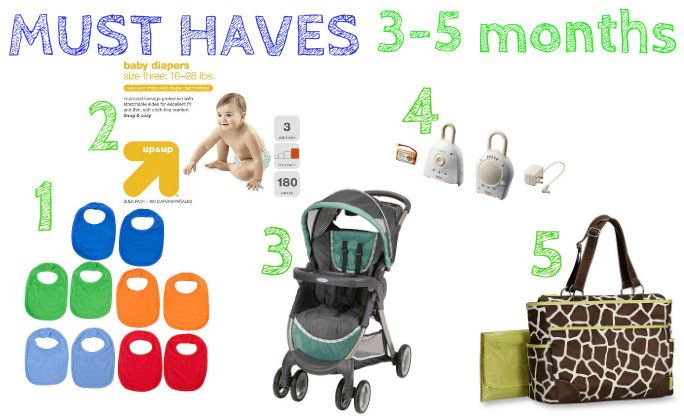 (1)
Babies R Us Boy 10-Pack Bibs
: (also come in girl colors) Solid color bibs are great because they match almost anything. These are also a great size- large and thick enough to catch all that drool and spit up.
(2)
Target brand diapers
: These have been great since Paxton was about 2 months and in a size 1. Before that, we used Pampers because the wet indicator worked better.
(3)
Grace FastAction Fold Stroller
: We have the Bermuda pattern and we love it. It's a teal and gray color combo. We have a boy but we plan on using it for any future girls if it is still in good condition. We also love the stroller itself. It's super easy to fold and unfold so I feel comfortable taking Paxton places by myself. I don't have to worry about wrestling with an inanimate object in the parking lot. The only downside I can think of is that the wheels were a little hard to put on. That being said, since it took a lot of force we know those babies aren't coming off!
(4)
Sony Baby Call Baby Monitor 900 MHz
: We went with a traditional sound-only monitor instead of a video one for one main reason- it costs less. Paxton slept in our room until just recently (4.5 months) and now his room is just down a very short hallway. This monitor has been known to make spitting/cracking/white noise sounds if it gets interrupted (...or something. We really don't know the reason.) For our apartment, it's perfect. It even worked great in both of our parents' homes which are traditional 2 stories. We loved it during the New Years Eve party we attended because it lights up so we don't have to actually
hear
the sound coming out of it.
(5)
Carter's Giraffe Print Diaper Bag
: This bag is the perfect size. I can fit everything I need in it, and there's only room for me to put in a few unnecessary things. Not five. Which I would do if I could. The fact that it's cute and JD isn't embarrassed to carry it are 2 pluses.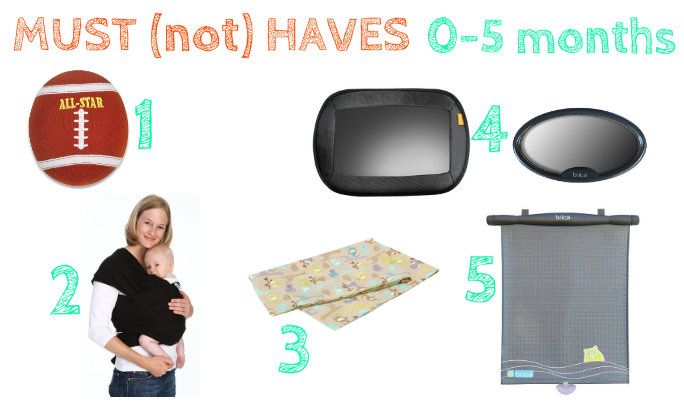 (1)
Munchkin Sports Cup:
We have 2, a football and a basketball. JD thought these were hilarious and I was seriously concerned about getting peed on so we purchased them. While the concept is cute, they aren't practical. If your baby boy is completely still during diaper changes, one of these will work nicely. If he wiggles around, it just falls off. I carry one in our diaper bag and I have used the other one once. I saw that he was starting to pee, so I grabbed it. I did work nicely as a shield, but so would a diaper, burp cloth, or anything else you have handy.
(2)
Moby Wrap Baby Carrier:
We got ours used from one of JD's co-workers. I had heard conflicting reviews- easy to put on, difficult to put on, baby loves it, baby hates it, and so on. I wanted to try it anyway, because Paxton HAD to be held for the first couple months of his life. I figured this trend might continue and maybe my arms would get a break. We got it at around 1 month and he wasn't crazy about it. I was very nervous wearing it. He was secure, but I felt like I was walking funny and tensing my back because I was afraid it would come undone. Both JD and I like our
BabyBjorn
carrier MUCH better.
(3)
Pack n Play Sheets
: The link goes to the Graco ones because that's the brand of play yard we have. For those parents who use the pack n play as a bed before transitioning to a crib, I can understand why sheets might be necessary. However, we haven't put Paxton in the pack n play very often so far. The pad it comes with wipes clean with a wet cloth, so we don't need sheets for protection. Eventually, we will use this as a bed when we travel so the sheets will probably get used then.
(4)
Brica Baby in Sight Mega Mirror
and
Brica Stay in Place Baby Mirror
: Since we didn't get these set up in our cars before Paxton was born, they have yet to be installed. Honestly, we haven't missed them. Since he has to face backwards, it would be nice to be able to look up and see his face, but he usually falls sleep in the car anyway. Also, I recently read that these type of products can come loose during a wreck and become hazardous flying objects. Not worth it. That being said, we have one of each sitting around here if you want them. Just pay for shipping!
(5)
Brica UV Alert Shade
: This did get put up (in my car at least) but so far it hasn't been needed. Paxton's car seat has big retractable shade so we pull that over him when the sun is bright. When he gets a toddler seat the shade will be helpful. It's not something you need right away.
(1)
Graco SnugRide 35 Car Seat
: The infant insert- great. The pattern- great. And it clicks in easily to the base and the stroller. But this thing is a monstrosity. We chose it because Paxton will be able to ride in it until he's 35 lbs. Most infant seats have a lower max weight and therefore can't be used for as long. These things are expensive so we wanted to get good use out of it. That part is paying off. However, because it's made to hold an older baby, it's bigger. I have trouble carrying Paxton around it- from the house to the car is enough.
It doesn't fit in the front of a grocery cart.
This is what we wish we would have known before. We may have chosen a different seat. I can't take him to the grocery story by myself unless I'm only planning on getting a few things, because I have to put the seat in the main part of the cart. Now, when he's old enough to sit in the front by himself, this won't matter anymore. I'm looking forward to that day.
(2)
Summer Infant Soothing Spa and Shower
: Paxton loves bath time! The mesh sling props him up perfectly and he doesn't slide. The issue here is how short the tub is. He loves to kick around in the water but his feet hit the end. We haven't tried the sling in a regular sized tub yet, but I guess that
would
take care of the problem. The spa unit uses a lot of batteries, but we're really excited to try that once Paxton can sit up unassisted. It does take up more of the tub space, though.
(3)
Summer Infant Newborn to Toddler Fold Away Bath Tub
: We have this tub for baths at the grandparents' houses. It gets the job done, but I'm glad we only use it when we travel. It does NOT fold as easily as the name suggests and Paxton slides down the slippery material.
There ya have it!
What we're lovin' and what we're not lovin' so mu

ch :)