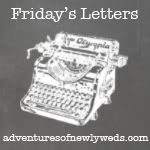 Dear Paxton- You are doing so much better with tummy time. You lift your head and look around instead of screaming face-first into the floor. You've rolled over once and you just need to figure out how you did it so you can do it again!
Dear Shower-
I'm sorry I haven't visited you in 2 days.
Gross.
We have a date tonight.
Dear Time-
I can't decide whether I want you to go faster so I can be surrounded by family and friends or slower so I can enjoy the holiday season. How about this- speed up until the 22nd and then slooooow down until the 2nd. Got it?
Dear Caramel Brulee Latte-
You are
dee-lish
and my new favorite Starbucks drink.
Dear JD-
You are going to LOVE your
12 Days of Christmas
! Here's to hoping I get each gift in time to give them to you :)
Dear Oprah-
This time of year I really miss your show. The Favorite Things episodes were my favorite!
Annnnnd also for today--
Erin
tagged all her followers for this fun Christmas Questionaire :) I've filled it with throwback pictures for your enjoyment.
1. What makes Christmas such a special holiday for you and your family?
Well for the past 3 years I've been living in a different state than my relatives so I love being able to go home for Christmas.
In 1998 a special Christmas event was this holiday parade my sister and I marched in. Sequin sweatsuits- yes.
2. Were you told the truth about Santa Claus by your parents or did you find out another way? AND do you plan on lying to your kids?
I just gradually stopped believing in Santa. I don't remember a specific time I "found out" or a certain year that I didn't believe. And I had to keep pretending for a few years because I have a younger sister.
I plan on raising Paxton to believe in Santa. I understand why some parents don't do it, but I'm not one of them.
3. Real tree or fake tree?
Real! Well this year I have a fake one but I always had a real one growing up. I loved going with my family to pick it out at the tree farm. JD is Team Fake, though, so hopefully I'll be able to convert him in the future.
circa....1996? Whenever it was, it was before my sister and I bullied my mom out of decorating our tree with ribbons and bows. No offense to those who do, but it isn't my style.
4. Do you open presents on Christmas Eve, Morning or both?
Christmas Eve is presents with my mom's relatives and Christmas morning is family Christmas.
Christmas morning 2006. We take a picture with our opened presents every year.
5.What is your favorite Christmas movie to watch? And favorite Christmas song to listen to?
Movie:
It's a Wonderful Life
. It's also my overall favorite movie.
Song:
Baby, It's Cold Outside
. or
Have Yourself a Merry Little Christmas
.
Bonus Question 6. What are you looking forward to THIS Christmas?
Celebrating our first Christmas as a family of three!
And doing this for JD!
Have a fabulous weekend, all!
P.S. Giveaway going on
here
!