***********************************************************************
Friday

evening I did some Father's Day shopping on Etsy. My dad will be receiving this personalized golf towel in black. It will say his last name, not Lord Byron!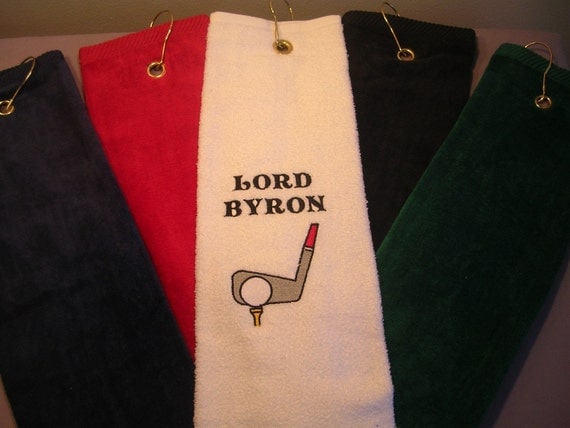 I wanted to get JD something for being awesome thus far through my pregnancy. I'm not sure if he keeps up with my posts anymore, but I can't risk putting a picture up just in case. I'll be sure to update again after these wonderful men receive their gifts :)
Saturday

evening JD and I went Baby Boy shopping :) We stopped by Kohl's to use our Kohl's Cash. We thought it was only worth $10 so we got 2 onesies on sale for $6 each. We were pleasantly surprised when we got to the register and realized we actually had $20 to spend. Obviously, I went back Sunday to get more goodies.
Then, we headed to the mall to spend a $25 Baby Gap gift card. We HAD to get the scarlet and gray onesie ;-) And the nautical theme was too adorable to pass up. These were also on sale-- pants $12, onesies $7.
Saturday
night while JD watched the Heat/Celtics Eastern Conference Finals game, I tried out a
Pinterest
recipe:
Blueberry Angel Food cake
. I was drawn in by the word "cake" and the fact that it only has 2 ingredients. That's my kind of baking.
Things you'll need:
-Angel Food cake mix
-Blueberry pie filling
-mixing bowl
-9x13 in baking pan/dish
Mix the cake mix and pie filling. Since angel food cake is airy, the powder in the mix is extremely fine. When mixed with the filling and stirred it gets a "whipped" consistency. Also, air pockets form so be sure to stir all the way down to the bottom of the bowl so there's no left over powder underneath.
Spread in the (ungreased) baking pan and bake at 350° for 28-30 minutes.
Result:
The recipe said ungreased pan, but I should have sprayed a little PAM in there before filling it. There was some stick-age. I also was impatient and didn't let it cool all the way before eating some, so that may have had something to do with how ugly my piece looks ;-) Topped with Cool Whip, it was delicious.I definitely recommend this easy-peasy desert to anyone who likes blueberry!
Sunday

morning I started off my day with a piece of that blueberry heaven pictured above and watched one too many design shows on HGTV. I now want to renovate something.
Then JD and I headed back to Kohls where I picked up a maternity tank
and my first nursing bra. No picture, you're welcome ;-P
and Motherhood Maternity where I finally snagged a maternity bathing suit. (Picture to come tomorrow for my 30 week Bumpdate.) These things are so darn expensive. I've seen them at multiple stores *on sale* for $50-- whaaaa? So I jumped at the chance to purchase one (top and bottom together as a set) for $30. I'm so ready to try this baby out at the pool during these hot summer days :)
Sunday evening
I watched some good ole TLC-- Little People Big World and Sister Wives! I made some penne pasta and steamed broccoli and mixed it with JD's Olive Garden leftovers (The "Mixed Grill" entree) for a dee-lish dinner!
Dessert was strawberries, dessert cake cups (store bought) and Cool Whip.
*************************************************************************
I'm going to admit, during all the copying and pasting of these questions, I've lost count and have no idea what official numbers these are. I also only copied about 50 of them originally and thought "Oh, I'll remember which blog I got these from and go back and get the rest later." (There are a total of 100.) Riiiiiight. Anyway, here are a few more "About Me" questions for my followers- old and new :)
Do you believe in a god?

Yes. Short and sweet answer.
Of all the social networks in the world, why use twitter?

It's not my first choice. I still get on Facebook more often. I can see why people like it because it seems less annoying to your followers if you update multiple times in one day. It's also a tad less creepy than Facebook...so far.
What's your favorite hashtag to track?

I don't track hashtags. I'll make up random ones or occasionally check out the ones that are trending.
Would you call yourself/your family "middle class?"
Yes.
Name a TV series you didn't enjoy until after it ended.
Friends. I was too young to watch it when it was in the first few seasons and by the later seasons I didn't understand all the background story jokes.
Have you ever bought a product from an infomercial?
No. JD's policy is "If they over a 2 for 1 deal they're just trying to get rid of stuff so it's not worth it." I've also found very few things I think I actually need.
If you could give up your car and never have to drive again, would you?
No.
If you go back to one point in time to give advice to yourself, when would you go and what would you say?
To my Jr. High self I would say "Stop worrying about boys. The perfect one will come around." To my college self i would say "Go out and have fun. It's acceptable to be crazy now but later in life people will judge you."
What's your "quirkiest" habit?
I constantly cross my legs which I know I need to stop doing because it causes those little spider veins. I also twist a certain section of my hair a lot which I'm sure can be annoying to those around me if they notice it.
What is "normal?" Are you normal?
I think so. Everyone is weird so that makes weird normal, right?
Someone close to you is dying. You have the choice to let this person live for 10 more years, but if you do, you cause the death of 10 strangers. You don't have to see them die. Do you take the offer?
This depends who the person close to me is. My grandma died recently at the age of 96. As much as I loved her, adding 10 years to her life wouldn't have increased her happiness in any way. She had a great life and now she gets to be with my grandpa again. If the person was someone younger and healthier, I would very possibly do it. Selfish, I know.
What is one thing you could never forgive?

Hmmm....In the last set of questions I mentioned a man who stole from his parents-in-law. That would definitely be high up on the list. Cheating would be up there, too. I don't condone cheating anytime, but now that I'm married (and expecting a little one) I would be more upset about it than before I think.
Would you rather be in a relationship after the honeymoon period ends, or be single?
I'm currently in a relationship and the honeymoon period has ended. Yes, we're still considered 'newlyweds' and we definitely still have a spark ;-) But we're not constantly obsessed with what the other person is doing and we enjoy our individual time. I think that is much healthier and it makes the time you spend together that much more special. After being with JD, I could never be single again.
Is it possible for guys and girls to be just friends?
Definitely. I have several male friends.
Where do you and your friends go to hang out?

Restaurants and bars.