Shane over at
Whispering Sweet Nothings
set up a Blogging Directory that YOU should join! Click on the "Coast to Coast" button below to place yourself on the map and see who is blogging near you :)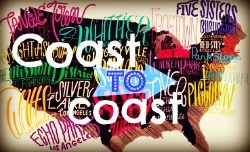 SUITS:
-->I love the twisted teal top and the knotted striped top!
-->I haven't worn a one-piece as an adult, but I'm assuming after I push out this little alien I'll be less willing to show off my abs! I love the gathered areas of the green suit and how the top is a tad more revealing than normal one-pieces.

ACCESSORIES:
-->Of course, you need your sunscreen! Everybody loves a nice glow, but the lobster look is NOT in. Nor is it healthy. Get a cutie to rub it in for you ;-)
-->I'm not a hat person, but this would be cute for strolling the beach or boardwalk!
-->Gotta have some 'flops at the beach! And I love the bows!
I hope everyone has an AWESOME weekend. I'll be doing more packing today, loading (or watching other people load because they won't let me lift much) the truck tonight and tomorrow, and finally moving into our new place on Sunday!! Updates next week :) :)
Also...