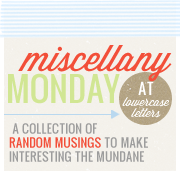 I actually put into action something (other than a recipe) I found on
Pinterest
! My nails hardly ever grow past my fingers so I don't have natural tips to go by when doing my own French manicure. I have a pretty steady hand, though, so I've gotten good at this style. But when I saw this idea on Pinterest, I had to raid my office supplies to see if I had any of these little sticky dots. Lucky for my little phalanges, I did!

After: The lines are straighter than I would have accomplished on my own...and it took a lot less concentration. I was able to watch Sister Wives while doing it ;-)
I used...
I was out of clear polish and since I like the bright white look on the tips, I only used the Revlon color on the inner parts to give them that 'finished' look. When I attempted to lightly brush over the tips with it, they turned pinky and that wasn't cool with me.
Now I'll have pretty nails for about 1.5 days until they chip. It never fails.
*****************************************************************************
and stole this fun diddy from her:
10 Favorite Musical Artists:
1. Kenny Chesney
2. Zac Brown Band
3. Carrie Underwood
4. Miranda Lambert
5. Blake Shelton
6. Tim McGraw
7. Garth Brooks
8. Jason Aldean
9. John Cougar Mellencamp
10. The Beatles
9 Things in your Purse:
1. Debit Card
2. Chapstick
3. Pen
4. Receipts
5. Coins
6. Phone
7. Library card
8. ID
9.Coupons
8 Places you Want to Visit:
1. California
2. Grand Canyon
3. Florida Keys
4. Australia
5. Canada
6. Hawaii
7. Ireland
8.The Wizarding World of Harry Potter at Disney World
7 Movies you Love:
1. It's a Wonderful Life
2. Steel Magnolias
3. Father of the Bride
4. The Notebook
5. Back to the Future
6.The Hangover
7. Pretty Woman
6 Favorite Hobbies:
1. Reading
Currently:
2. Scrapbooking
3. Reading blogs/Blogging
4. Does Pinterest count?
5.....now I feel like I have no life...
6..............
5 Favorite Fruits/Veggies:
1. Strawberries
2. Nectarines
3. Raspberries
4. Grapes
5. Peppers
4 Favorite Colors to Wear:
1. Black
2.White
3. Blue
4. Coral...even though I hardly own anything in this color. This needs fixed.
3 Things that Stress you Out:
1.Thinking about giving birth.
2.Thinking about being down to one paycheck next year.
3.Trying to pick out a baby name (post coming soon)
2 Things you Say Too Much:
1. Literally
2.What my husband lovingly calls "pregnancy sounds". These are varied forms of loud breathing such as huffs, puffs, sighs, grunts, etc. as I'm trying to sit down, get up, or maneuver my body in any sort of way. Ha!
1 Favorite Dessert:
1. Ice cream
Just had one of these today and it was AMAZING.
Strawberry Shortcake Frosty Parfait from Wendy's
Some Instagram Recents...
Finally a good picture of our baby, Bert. This cat is SO not photogenic. I takes juuust the right amount of light to bring out his facial features. Otherwise he just looks like a blob. A cute, furry, little blob :)


An amazing way to start a day at school. Chocolate Chip Banana Bread and a Decaf Iced Vanilla Latte. Love.


Milwaukee Brewer's game field trip with the middle school. Luckily we were in the shade and the only "babysitting" I had to do was take attendance about 10 times and tell the boys to stop throwing popcorn and peanuts at the girls. I'd call that a good day.
xoxo,
Sarah