This post has reminded me of my love for peep toes and flats. I have yet to combine the two and get me some peep toe flats. I think a trip to Payless is in order...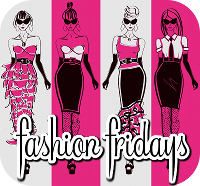 outfit details can be found here:
School Days
by
Sarah-Christine
I made this orange and gray outfit with the first day of school in mind. Something dressy, but comfy. Flats are a must. I would sub the cute flower belt for the fabric tie around the blouse. I need a big bag to throw all my stuff in...Sharpies just because they're my favorite office supply...and Starbucks to start my day off right.
Because I love Friday's Fancies, Fashion Fridays, and Polyvore oh-so-much, I've created another set. This one showcases my love for blue, white, tan, and gold. I've been really attracted to these colors lately.
Here's what I'm thinking for these outfits:
(1) Lunch with friends.
(2) Afternoon at a bookstore, strolling downtown, or a bridal/baby shower.
(3) Date night with the fiance.
(4) Again, fancy dinner. This one also gives me the drinks-and-dancing-with-girlfriends vibe. Are you feeling it, too?
What do you think of my picks? Click the button above to "like" my Friday's Fancies submission. Find my outfit in the link up (# 42!) and give it a thumbs up :)