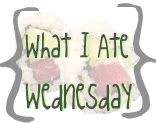 Here are some meals from this past week....
And I'm going to make some whole wheat pancakes with strawberries and blueberries after I post this! My tummy is rumbling for them :)
********************************************************************
I'm also declaring today
There are so many things on my wedding To-Do List. Here are just a few:
I know I want orange, plum, and sangria (think wine or a purple-y maroon) colors in the bridesmaid's bouquets. JD and I will be completely black and white/ivory. My bouquet will be white/ivory roses and calla lilies:
Determining how many people will want to stay overnight is difficult. We're counting everyone out of town. But what about in town (or 90 min or less away) who we're pretty sure will be drinking all night? Our number could be pretty high :-P
Our cake is included in our venue price so we need to find out exactly what we can get and what is extra.
This is shaping up to be the hardest decision yet...and I'm not really sure why! Maybe because putting flowers at every table will be a tad more expensive than we had hoped. And candles and those round mirrors are so...ordinary. Hmmm....
Bows out of organza ribbon? Tiny bouquets? I need to do more research on this!
Our favor is a candy table and each guest will get one of these mason jars to fill up.
Every Wednesday, I'll share some of my wedding tasks with you :) Any feedback would be appreciated!