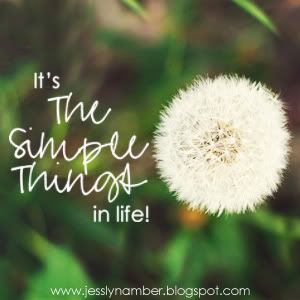 I'm linking up with the beautiful
Jesslyn Amber
today :) Here is a list of The Simple Things in my life that have made me smile this past week.
(1) Listening to my cat purr.
(2) When JD said "This is delicious!" during dinner.
(3) When Blogger came back to life :)
(4) JD's plan of action for registering at Bed, Bath, and Beyond: "We'll do the inside isles, then the outside wall, then move on to the next section." haha I love him!
(5) The caramel latte I enjoyed after said registering marathon at BB&B.
(6) Our Wednesday night TV line-up: The Middle, Modern Family, Cougar Town
(7) Getting the best parking spot in my apartment complex.
(8) Paying with exact change.
(10) Getting a package :)
It's the book I won from
Walk a Mile in my Boots
! She sent a cute little card along with it :) I'm excited to start reading this and learning about how I can modify my diet.
(11) In addition to The Simple Things, I'm joining another new link up today! Amy @
Life's Journey with a Smile
was inspired by F.R.I.E.N.D.S. to make a "Freebie Five" list (aka 5 celebs you would sleep with and not get into trouble with your significant other). JD and I have played this game many times, and he knows I love him, so I know he won't be offended ;-) So feast your eyes on this man candy....
[1] Channing Tatum
[2] Chad Michael Murray
[3] Matt Damon
[4] Zac Efron
He's my generation's Bieber. And he's my age so it's not creepy.
[5] James Lafferty
One Tree Hill is the jackpot of hot men.
And it got picked up for a ninth season!
************************************************************
Help!
JD and I are re-thinking our honeymoon plans. Instead of a 2-day getaway (and postponing our
real
honeymoon until 2012), we're thinking about a cruise right after the wedding. The "book early and save" price seems like a good deal.
Have you been on a Carnival Cruise before? I'd love to hear about your trip!
We're having trouble finding exactly what the "all inclusive" price includes and what's extra. Any information would be appreciated :) Thanks!