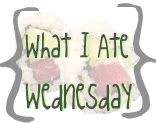 Here are some meals for this past week:
Baked tilapia, cheesy hash brown casserole, stir fry veggies and orzo pasta
Turkey Vegetable Chili Mac
Recipe from...
How lazy am I to take a picture instead of typing out the recipe? haha
I follow recipes to the T when I bake, but not so when I cook. Here are a few things I changed about this recipe:
1. Less onion, probably about 1/4 cup
4. Fresh chopped tomatoes instead of canned ones. I added 2 T water make up for not having the tomato juice.
5. Almost half a packet of taco seasoning instead of 1 tsp. Mexican seasoning
6. I used boxed Mac 'n Cheese, including the powered cheese, instead of plain elbow macaroni
There ya go! Get these ingredients and make this noooow! SO DELICIOUS :)
KFC. I know it's bad for me, but look at how small I kept the portions! Yay me!
Toast with peanut butter and scrambled eggs with cheese and ham
All of these meals were great, but the BEST thing I ate this week (by far) was a red velvet cupcake from Gigi's Cupcakes.
I only ate half the icing (cream cheese, mmm!), but you better believe I considered stuffing the rest into my mouth when JD wasn't looking ;-)