Megan over at
Captivated
is hosting her first Link Up called Thankful Thursday. I think this is such a great way to focused on all the ways that we are blessed.
Life is good
:) Here are some things I am thankful for today.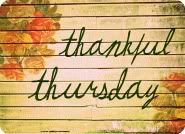 1.
The SUNSHINE <3 Summer is just around the corner!
2.
This week, I can cross 3 goals off my
101 in 1001 list
! I've gathered 25 articles of clothing to donate, I've completed 1 week of vegetarianism, and I successfully gave up coffee and fast food for Lent :)
3.
My parents are giving JD and I an awesome wedding. I'm am so lucky to have parents who were not only able to send me to college, but to host the best day of my life!
New Years Eve 2008
4.
JD has a great job that he enjoys. He is able to support us while I'm searching for a position to start my career.
5.
My friends and family are healthy.
6.
JD :) He's the best fiance a girl could as for.
Columbus Clippers baseball game, Summer 2010.
7.
That I have groceries in my cupboard, shoes on my feet, and a roof over my head.
8.
That I have money to buy gas for my car.
9.
My cat. As "crazy cat lady" as it may seem, he's my furry little companion and I would be so lonely all day without him!
10.
Easter! We have been given the gift of eternal life.
One more thing before I check out for the day-- Jamie over at
this kind of love
is giving away a copy of the movie Fireproof. Check out her blog to read a summary of the movie and enter to win!